Stay Healthy Toolkit
Healthy, Smarter, Stronger - Together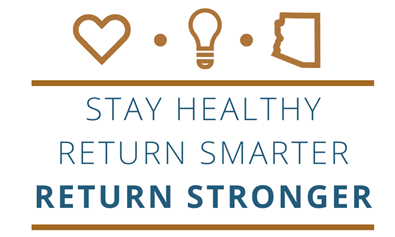 Staying healthy and active is critical as we work to recover from the COVID-19 outbreak. The Stay Healthy Toolkit offers resources to help you and your family care for your physical and mental health and continuing personal development and learning opportunities.
Arizona offers boundless opportunities to enjoy the outdoors and discover new places, while staying healthy and practicing physical distancing. From the Grand Canyon to a local resort in your community - there is something for everyone. Rediscover Arizona and plan your next experience using the planning guide developed by the Arizona Office of Tourism.
Rediscover Arizona, click here. 

Practicing physical distancing remains important, as well as making sure we protect the most vulnerable, but we can still stay connected to the people we care about. Stay in touch - let someone know you're thinking of them.
Call friends and family.
As we practice physical distancing and spend more time at home, it's important to check in on the people we care about.
Send a letter.
Sending a note to let someone know you're thinking of them is a great way to stay connected, even in our virtual world.
Host a virtual gathering or meeting.
It's never been easier to connect as we physically distance using video technology on our phones and computers. Consider hosting a video meeting instead of a phone call or plan a virtual gathering for your family.
Physical Health
---
Physical activity is an important part of being healthy and there are countless ways you and your family can stay active during this time.
Featured Local Arizona Virtual Workout
Yoga Flow with The Madison Phoenix - 45 Minutes
Want to see your local Arizona gym featured? Send a link to your virtual workout and gym website to [email protected]
Virtual Learning
---
Arizonans of all ages can continue learning from the comfort of their home. There are countless resources for kids and adults alike to build on knowledge and skills as we practice physical distancing.