Stay Healthy Toolkit
Stay Home. Stay Active. Stay Healthy.
Let's stay healthy together.
Staying healthy and active remains important as we spend more time at home and practice physical distancing to contain the spread of COVID-19. The Stay Healthy Toolkit offers resources for maintaining physical and mental health and personal and professional development opportunities.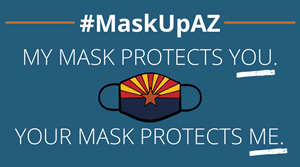 We all play a role in fighting COVID-19, you can help contain the spread of the virus and protect yourself and those around you by wearing face mask. Click here to learn more about how masks are helping us fight COVID-19 and important points for using them effectively. #MaskUpArizona - let's fight COVID-19 together.
Make your own cloth face covering at home, click here for instructions.
Physical distancing doesn't mean disconnecting.
Practicing physical distancing remains important, as well as protecting the most vulnerable Arizonans, but we can still stay connected to the people we care about. 
Call friends and family.
As we practice physical distancing and spend more time at home, it's important to check in on the people we care about.
Send a letter.
Sending a note to let someone know you're thinking of them is a great way to stay connected, even in our virtual world.
Host a virtual gathering or meeting.
It's never been easier to connect as we physically distance using video technology on our phones and computers. 
Donate blood and plasma to save a life.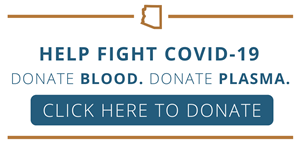 You can save lives and help fight COVID-19 by donating blood and/or plasma. And if you have recovered from COVID-19 and you are now healthy, your plasma may help someone else recover from the virus. Studies indicate that the antibodies developed in recovery can make the difference for people not able to fight the virus on their own. Learn more about plasma donation and how it's helping people fight COVID-19, click here.
Apply to Donate Plasma
Donate Blood
Physical Health
---
Physical activity is an important part of being healthy and there are countless ways you and your family can stay active during this time.
Arizona Active & Learning, Together
---
The State of Arizona is working to ensure Arizonans have information and resources to keep learning and stay active as we stay home and practice physical distancing. Use these resources from our state agencies to stay active, learning and healthy.
Bring Home the AZ Outdoors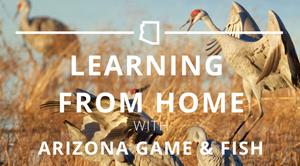 The Arizona Game & Fish Department is helping keep kids and adults alike learning about the Arizona outdoors while we spend more time at home. Lesson plans, webinars and more are available for Arizonans to support learning from home.
View the Learning from Home Resources
Your State, Your Next Adventure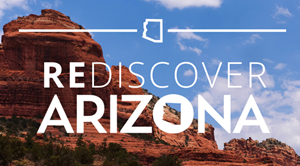 Arizona offers boundless opportunities to enjoy the outdoors and discover unique places, while continuing to practice physical distancing and protect ourselves and other. Rediscover Arizona, plan your next experience with help from the Arizona Office of Tourism.
Plan Your Next Arizona experience
Responsible Recreation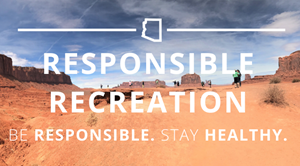 Enjoying the outdoors is part of being an Arizonan, but it's important we enjoy responsibly. Practicing physical distancing, wearing a cloth face covering and other precautions are important. Arizona State Parks & Trails and the Arizona Office of Tourism have information to help keep you safe.
Responsible Recreation Guidance
Campground & Trail Information
Tools for What's Next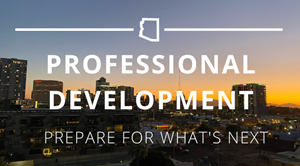 Making sure Arizona's workforce is prepared for what's next is critical to our recovery from COVID-19. The Arizona Commerce Authority is working to ensure Arizonans have access to professional development tools to support continued professional growth during this time so we can return stronger. 
View Professional Development Opportunities
Virtual Learning & Cultural Experiences
---
Arizonans of all ages can continue learning from the comfort of their home. There are countless resources for kids and adults alike to build on knowledge and skills as we practice physical distancing.