We're in this together
"As we work to combat the spread of COVID-19, access to resources that can help support families and businesses in this time of need is critical. We're calling on Arizonans to be informed, get engaged, and support organizations doing important work to keep our communities safe and healthy. Arizona will get through this together." - Doug Ducey, Governor of Arizona
#AZTogether
Arizona is here for you
We are committed to making sure Arizonans have access to the resources they need as we work to get our state through the COVID-19 outbreak. We're in this together.
For more information about COVID-19 in English or Spanish, dial 2-1-1.
If you need public assistance, email [email protected].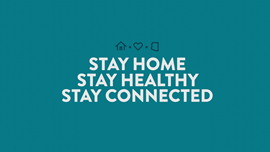 Stay Home: increase physical distancing, stop the spread of COVID-19 and protect yourself and your family. Stay home unless you are leaving for an essential service.
Stay Healthy: remain physically active, wash your hands, use a tissue when you sneeze, and maintain healthy habits.
Stay Connected: find alternative ways to stay connected to family and friends by using technology. We'll get through this together..
View the full Stay Home, Stay Healthy, Stay Connected order here.
Your business matters
Arizona is here for your business during this challenging time and we have tools available to help us get through this. Whether you're looking for financial support, employees or employment opportunities, the Arizona Commerce Authority has resources ready for you. We're in this together.
Let's get through this together
It's critical that we work together to support the most at-risk Arizonans. There are so many ways you can help, from providing virtual support to delivering food and medication, even helping with daily tasks for people who live alone. 
Support the AZ Coronavirus Relief Fund
The AZ Coronavirus Relief Fund will provide financial support to organizations working to mitigate the impacts of COVID-19 in Arizona. Initially, the fund will focus on the following immediate needs:
Funding of Personal Protective Equipment (PPE) for frontline medical personnel.
Non-profit organizations that support the most vulnerable Arizonans through food banks, homeless shelters, domestic violence facilities, and other services.
Efforts to provide low-income students with technology enabling them to transition to online learning.
Businesses and organizations can also support the Arizona Together initiative through the donation of goods, services or volunteer efforts by employee groups. Get your organization engaged in our work to mitigate the impact of COVID-19 on Arizonans.

Donations (to date):
$6,485,910.93
Is your organization providing community support to Arizonans amidst the COVID-19 outbreak?
Organizations working to mitigate the impacts of COVID-19 in Arizona can request assistance from the AZ Coronavirus Relief Fund - please use the form linked here to request for support and we will be in touch regarding your request.
Media Resources & Information
---
COVID-19 Information
If you have questions about COVID-19 and are seeking help in English or Spanish, please dial 2-1-1.
Practice physical distancing.
Stay home as much as possible and don't expose yourself to groups. Always stay at least six feet away from other people. Remember to stay connected to friends and family using alternative methods like technology.
Wash your hands frequently.
Wash your hands with soap and water for at least 20 seconds. Use alcohol-based hand sanitizer when soap is not available. Remember to avoid touching your face.
Stay home if you are sick.
If you need to see a healthcare provider, consider using telemedicine, if this is an option.
Understand the difference between quarantine and isolation.
It's important that everyone stay home as much as possible and especially if you are sick while we respond to the COVID-19 outbreak.