We're in this together
"As we work to combat the spread of COVID-19, access to resources that can help support families and businesses in this time of need is critical. We're calling on Arizonans to be informed, get engaged, and support organizations doing important work to keep our communities safe and healthy. Arizona will get through this together." - Doug Ducey, Governor of Arizona
Arizona is here for you.
As we work to get through COVID-19 and support public health in Arizona, we are committed to making sure Arizonans have access to the resources they need to stay healthy and be part of our state's recovery. We're in this together and we will return stronger.
For more information about COVID-19 in English or Spanish, dial 2-1-1. If you need public assistance, email [email protected].
We all play a role in fighting COVID-19, you can help contain the spread of the virus and protect yourself and those around you by wearing face mask. Click here to learn more about how masks are helping us fight COVID-19 and important points for using them effectively. #MaskUpArizona - let's fight COVID-19 together.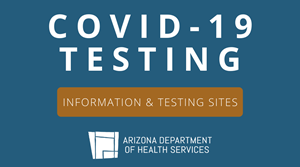 Need a COVID-19 test? Click here to learn more about COVID-19 testing and find a location near you or click here to find an upcoming testing surge event, many of which offered free of charge. 
Stay Healthy Toolkit
The Stay Healthy Toolkit offers resources that can help you maintain strong physically and mental health as we spend more time at home and practice physical distancing in our fight against COVID-19. 
View the Toolkit
Returning stronger, together.
Arizona is prioritizing the health and safety of residents while working with our business community to lay the groundwork for our economic recovery from the COVID-19 outbreak. Under Governor Ducey's leadership, Arizona is leading the charge - working directly with business leaders and our workforce to offer tools and resources that will help us return stronger, together.
Guidance for Businesses
Our business community plays and important role in containing the spread of COVID-19 and protecting the health of employees and customers alike. Find guidance and requirements for businesses operating in Arizona using the link below. 
Business Guidance Information
Working together to support Arizonans.
It's critical that we work together to support the most at-risk Arizonans. There are so many ways you can help, from providing virtual support to delivering food and medication, even helping with daily tasks for people who live alone. 
If you have questions about volunteering, please email [email protected].
Donate blood and plasma to save a life.
You can save lives and help fight COVID-19 by donating blood and/or plasma. If you have recovered from COVID-19 and you are now healthy, your plasma can help someone else recover from the virus. Studies indicate that the antibodies developed in recovery can make the difference for people not able to fight the virus. Learn more about plasma donation and consider applying to donate, click here.
Apply to Donate Plasma
Donate Blood

Individuals and businesses are finding creative ways to support Arizonans as we work to fight COVID-19 - honoring our frontline workers, bringing joy to their neighbors, donating goods and money and other creative ways as we work to get through this together. Read more about how Arizonans are supporting communities across the state.
Stories of Support
How are you helping?
How is your community or neighborhood helping others? Share your community's story through the link below or on social media using #AZTogether.
Share a story
Supporting the organizations helping Arizonans.
The AZ Coronavirus Relief Fund is providing financial support to organizations working to mitigate the impacts of COVID-19 in Arizona. Initially, the fund will focus on the following immediate needs:
Funding of Personal Protective Equipment (PPE) for frontline medical personnel.
Non-profit organizations that support the most vulnerable Arizonans through food banks, homeless shelters, domestic violence facilities, and other services.
Efforts to provide low-income students with technology enabling them to transition to online learning.
The AZ Coronavirus Relief Fund is providing financial support to organizations working to mitigate the impacts of COVID-19 in Arizona - 100% of contributions to the fund will be distributed to organizations across the state supporting Arizonans during the COVID-19 outbreak and recovery effort. Click here to learn more about impact efforts.

Donations (to date):
$9,778,551.61
Arizona Mobile Hotspot Donation Drive
---
The Arizona Commerce Authority and the Arizona Department of Education have partnered to launch a Mobile Hotspot Donation Drive to benefit students without access to the internet during school closures. Private sector partners are encouraged to donate unused hotspot devices to rural schools in the midst of closures.
More Details Here
Arizona Together with every community.
Arizona is working to provide grant funding and public assistance resources to local governments, tribal communities, state agencies, schools and other nonprofit organizations.
This step-by-step guide helps organizations identify funding opportunities for COVID-19 response and recovery efforts, along with support and guidance throughout the application and grant management process.
Learn More
Support for Arizona Communities & Nonprofit Organizations
---
Arizona is committed to supporting communities across the state and the organizations serving Arizonans as we work to protect public health and recover from the COVID-19 outbreak. We're working to expedite delivery of public assistance and streamline application processes to ensure continued delivery of the services that will help Arizonans stay healthy and return stronger.
COVID-19 Information
If you have questions about COVID-19 and are seeking help in English or Spanish, please dial 2-1-1.
Wear A Face Mask
Always wear a face mask when you are in public. Face masks are one of the most important measures we can all take to protect ourselves and those around us from COVID-19. Click here to learn more. 
Practice Physical Distancing
Stay home as much as possible and don't expose yourself to groups. Always try to stay at least six feet away from other people and when that's not possible make sure you're wearing a face mask.
Wash Your Hands Frequently 
Wash your hands with soap and water for at least 20 seconds. Use alcohol-based hand sanitizer when soap is not available. Remember to avoid touching your face.
Stay Home If You Are Sick
If you need to see a healthcare provider, consider using telemedicine, if this is an option.